POWER PLANT
| | |
| --- | --- |
| location: | Münster, Germany |
| project year: | 2009 – 2010 |
| attended: | Prof. Dipl. Arch. ETH Hans Drexler |
| | Eva Zellmann, DGJ |
| | Sebastian El Khouli, Bob Gysin Architects, Zürich |
| type: | Hotel, energy self-sufficient |
| | |
FIRST PRIZE - International Bauhaus.SOLAR AWARD 2010
"Young talent award sets the tone for European architecture"
(...)
Energy-Concept:
The entire amount of energy is generated by micro- algae. In closed loops a algae-water mixture circulates trough a pipesystem inside the hotelfacade. Illuminated by the sun the organism produces not only oxygen, but also reproducing their selves. As a result the algae proportion grows continuously. More precisely- every two days the algaeproportion reduplicates itself. Harvested and filtered the algae- biofuel can be used to generate electricity by a block heating station. In comparison with biofuel from rape, harvest an be 80 times bigger with microalgae.
The bottom line is micro-algae has the ability to mass-produce fuel for 104 % of the energy requirement of hotel and wellnesspark.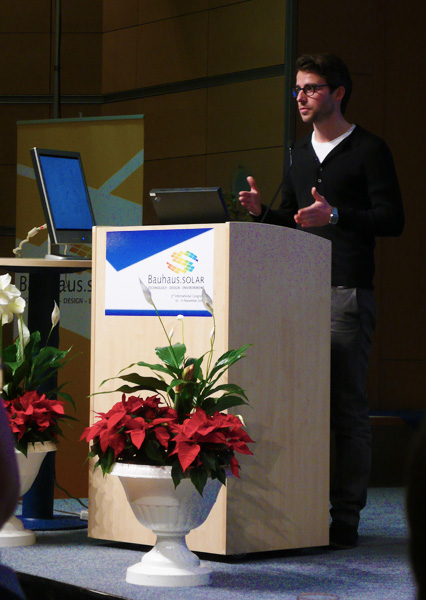 presentation at International Bauhaus Solar Congress
winning the Bauhaus.Solar-Award
siteplan
3d- section
elevation east
floorplan upper level, groundfloor, basement
cross section
longitudinal section
detail section
facade, view into hotelroom
hotelroom
model photo
film - dubble-click to start