Deichmanske Library
| | |
| --- | --- |
| location: | Oslo, Norway |
| project year: | 2009 |
| attended: | Prof. Einar Dahle (AHO) |
| | Prof. Prof. h.c. Herbert Bühler |
| type: | Library |
| collaboration: | Jannik Düllmann |
| | |
Changed by the Moon !
Surrounding area given by the site for the new deichmanske library is very unique. Similary a library with 30.000 m² has a need of a centralized organization. Furthermore the view axes from the city and the main station to the opera house should be protected.
Vertically and horizontally linked programs, open spaces and landscapes form a networked campus with multiple interfaces and opportunities encouraging both formal and informal creative exchange.

A Visitors notice of the building changes by the moon, which is responsible for two different senses. Tide makes the water move onto the lower part of the library and divides the building into two parts. When there is low tide you can see that it concerns on one single building.
siteplan
early sketch
function diagram
low tide view
mid tide view
high tide view
topview
longitudinal section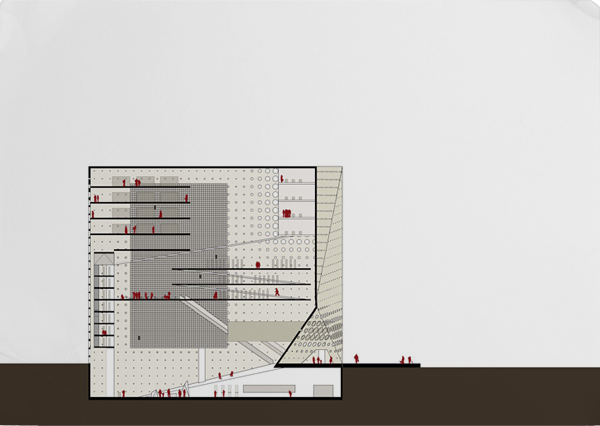 cross section
mainentrance
bridge to operahouse
view from oslo fjord